Tom Fisher shares his Buffalo, New York garden with us today, including a gardening feature popular with all types of visitors.
We have a very small prefabricated pond that we bought a few years ago. A toad took up residence the day we filled it. Since then we've added a couple of ponds to create a small waterfall. Now the toads and frogs spawn at least twice a year at any time of the year, the birds bathe and drink from the waterfall, and three goldfish spend their summers in the pond and then move south (into a basement tub) like snow birds for the winter. It really was our best addition to the garden; it has brought us so much life and joy and the creatures we didn't even know were around us. I still don't know where the frogs came from and how they found the pond. We operate a 3-in-1 pond filter with the pond, which we also take out with the fish in autumn, and looking after the pond is almost nothing. I encourage you all to add a pond. You will be surprised how even a little person can add so much.
One of the frog inhabitants of the pond nestles in the surrounding green.
Take a close look at the trickle of water flowing through the pebbles and you will see countless little black tadpoles, a future generation of frogs or toads just starting out in the tiny garden pond.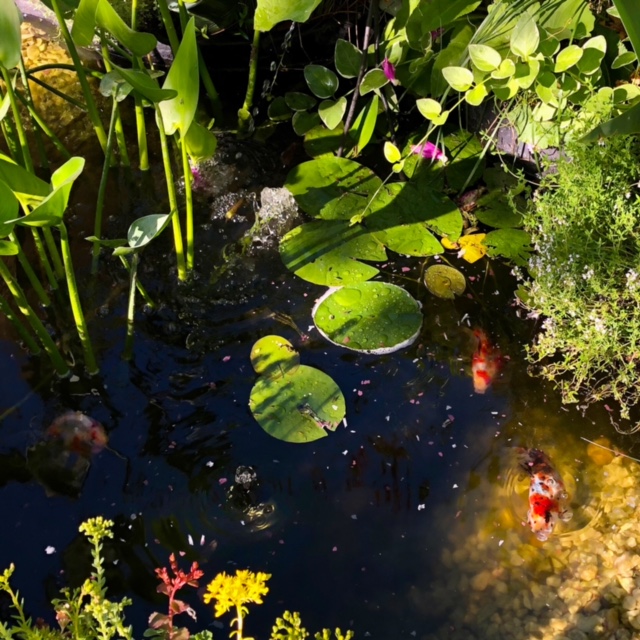 The three goldfish that live in the pond in summer come in for winter. In larger ponds they could overwinter outside, but a small pond in a cold climate can freeze up, so these fish need a little winter vacation.
This view of the entire pond includes the series of ponds above that form a small series of waterfalls. Even the smallest garden offers space for a bit of space.
Here the pond is dramatically lit at night and surrounded by greenery and flowers.
Do you have a garden that you want to share?
Do you have photos to share? We'd love to see your garden, a specific collection of plants you love, or a beautiful garden to visit!
Submit 5-10 photos to [email protected] along with some information about the plants in the pictures and where you took the photos. We'd love to hear where you are, how long you've been gardening, successes you are proud of, failures you have learned from, hopes for the future, favorite plants or funny stories from your garden.
If you want to send photos to the GPOD email box in separate emails, that's fine.
Do you have a cell phone? Tag your photos on Facebook, Instagram or Twitter with #FineGardening!
You don't have to be a professional garden photographer – read our garden photography tips!
Have you already received the GPOD by email? Login here.